Manual cutting ,gluing and binding system(W300)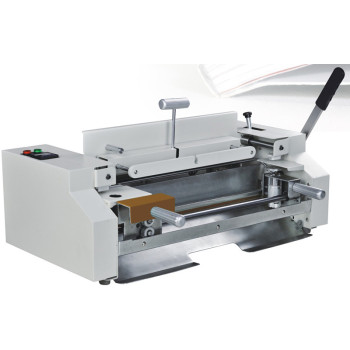 | | |
| --- | --- |
| Categories | Glue binding machine (perfect binder) |
| Brand | SUPU |
| Model | W300 |
| Max binding width | 360mm |
| Max binding thickness | 45mm |
| Binding speed | 40-60 books/hours |
| Power | 110V-240V/60/50HZ/350W |
| Heating time | 20 min |
| Machine dimension | 690x380x500mm |
| Machine weight | 29kg |
| Packing | 1pc/case |
| FOB port | Ningbo/Shanghai |
| Terms of Payment | T/T |
| Update Time | 2022/8/20 |
Desk-top perfect glue binding machine W300
The desktop type manual binding machine can be operated by manually pushing the rubber pot during operation. It is suitable for small-volume production of books, tenders, document binding, etc. Before the book is made, it is necessary to press the cover strips (can be completed with a creasing machine). To determine the binding position of the cover and the inner page, then put the manual glue machine on the device, clamp, flip the handle, and let the back part of the book up, in order to make the plastic cup and the back of the book fully contact, so the book back up, push in the plastic pot During the brushing process (fan-shaped glue), give a gentle pressure on the back of the book, so that each piece of paper is glued, so that the book that is glued out is firmer, firmer, not loose, and does not drop pages.
Manual operation gluing

Manual cutting and manual binding

Operation on desk-top


Machine dimension: 690x380x500

Machine weight: 29kg
Maximum:
Thickness 34mm

Punching up to 30 sheets

Max.thickness 50mm

Thickness 34mm

Punching up to 30 sheets

Max.thickness 50mm
DESK-TOP PERFECT BINDER, AND OPERATION SIMPLE.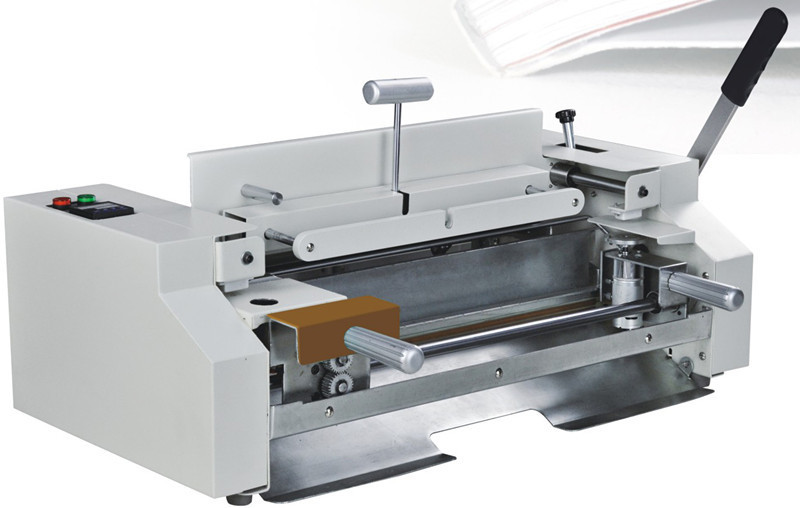 Model Name

W300
Max binding width

360mm
Max binding thickness

45mm
Binding speed

40-60 books/hour
Heating time

20 minutes
Machine dimension

690x380x500
Power consuming

350W
Power

AC 230V,50HZ
AC 110V,60HZ
After the brushing is completed, the handle should be quickly flipped and pressed down. In order to shape the book pressure, the back of the book is smooth and smooth, and the pressure of the pressure should be controlled. If the pressure is large, the back of the book will have wrinkles. If the strength is small, the back of the book is not The edges and corners are not beautiful, so the strength should be appropriate.

During the operation, try to master. Here, the hot melt adhesive used in the general binding machine is instantaneously solidified, so the glue is glued, the handle is turned, the book is pressed, and the action is coherent, so that the viscosity of the glue can be ensured to achieve the best effect, and the book is bound even more. firm. After the book is glued, cut it with a thick layer of paper cutter and cut it neatly.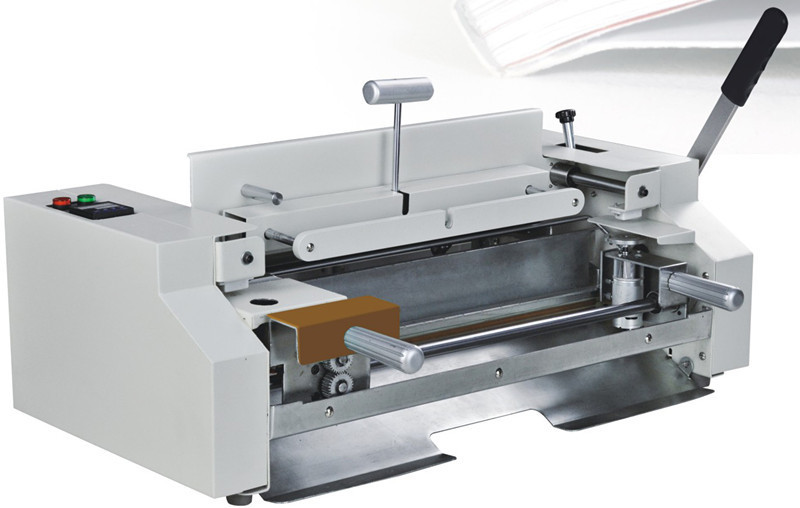 ADDRESS:

Jingda Road ,Shanlian Development Zone , , Hangzhou , ZheJiang
PHONE:

+86-571-88963565