360mm Punching Width Manual Double Wire Binding Machine CW360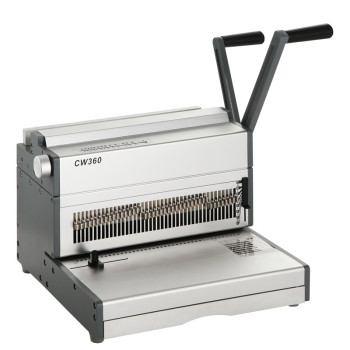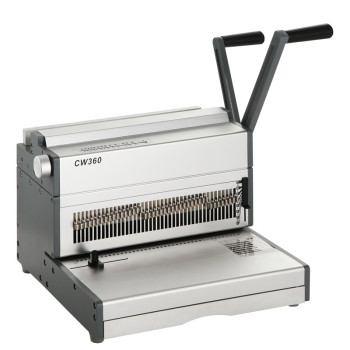 | | |
| --- | --- |
| Categories | Manual wire binding machine |
| Brand | SUPU |
| Model | CW360 |
| Max Punching width | 33cm (A4) |
| Max Punching thickness | 32sheets |
| Max binding thickness | 38cm |
| FOB port | Ningbo/Shanghai |
| Terms of Payment | T/T |
| Update Time | Dec 6,2023 |
A4 Size Manual Double Wire Binding Machine CW360
A4(11")work width. Full 34disengageable punch dies with hard steel for clean punch hole. 4 positiondepth side margin can be adjustable. A sticker on the machine guide you to select the correct wire dimeter. Manual Punch & BindingMachine with two seperated handle. 3:1 Wire Binding Machine ,3:1 wire punching and 3:1&2:1 wire binding. The paper load is horizontal and has a margin guide to assist the user with the work being done. Maximum binding capacityup to 143 sheets with 3:1 wire,punch up to 32 sheets,
Electric Punching up to 35 sheets 70g paper each time

Punching A4 format,11'' size paper.

Binding documents up to 143 sheets.

Use all sizes ring from 4.8-14.8 mm.

Side margin is adjustable.
Maximum:
Max. bind up 143 sheets


Width 360mm


Punch up to 2.5--4mm

Document measure to determine which comb size to be used All aluminium construction make it durable and many years worry free High capacity waste container requires emptying less frequently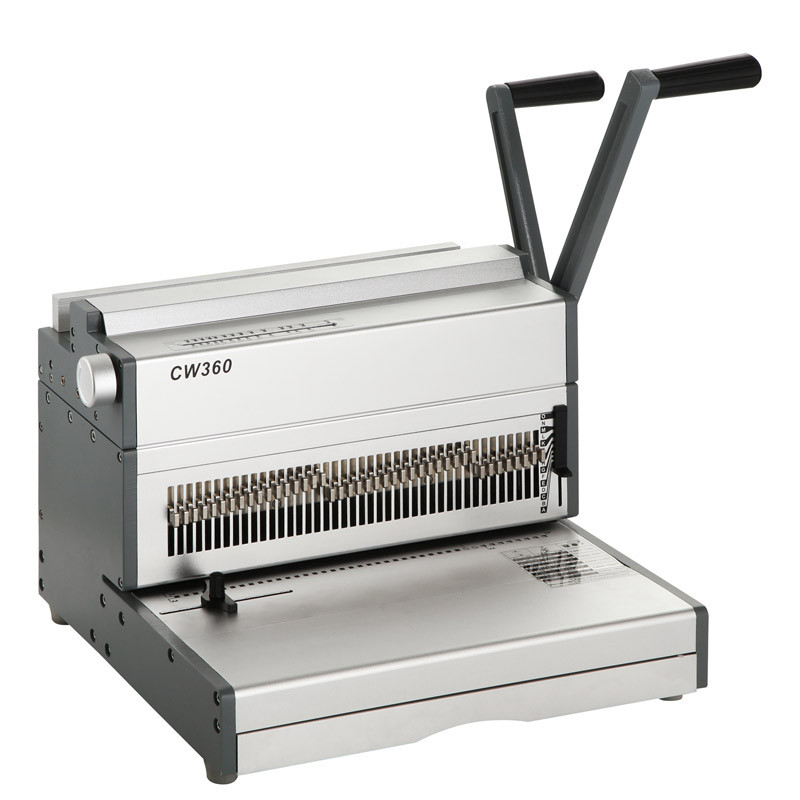 Model Name

CW360
Punch Width

360mm
Punching Thickness

35sheets
Punch Width

8.47mm
Disengagement Punch pins

42
Number of punch pins

42
Binding Thickness

143sheets
Motor

NO
Technical modifications may be made without notice. 1 mm = 10 sheets of paper, based on 80 gsm.
All performance outputs are based on 80 gsm paper and may vary depending on the product type, the working environment and the operator. For best punching results we recommend a paper thickness of 2.0 - 2.5 mm.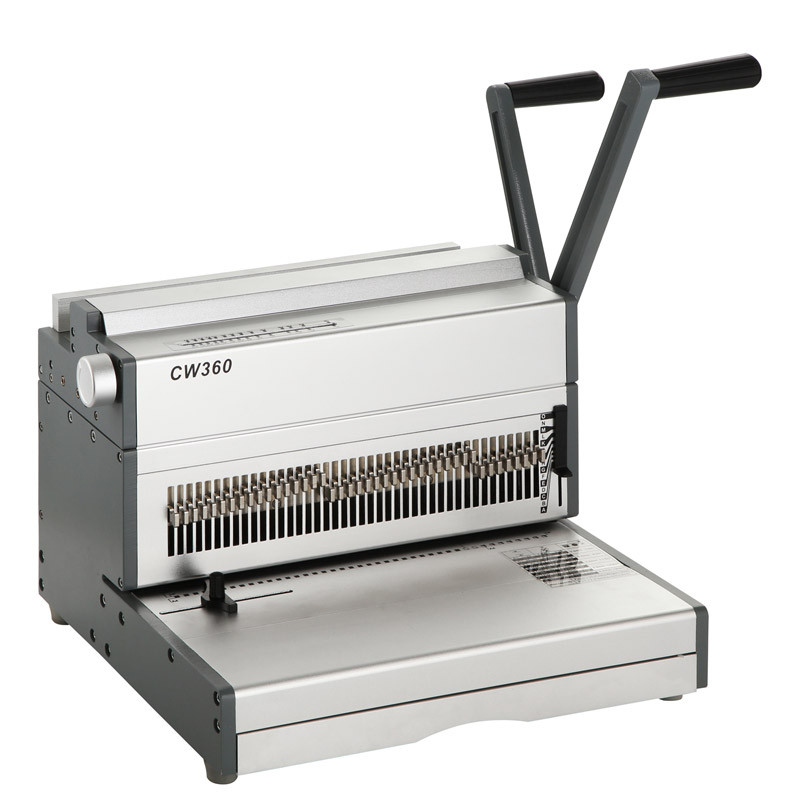 PRODUCT DETAIL
Measure the thickness of the document and select the appropriate apron specification according to the letter


Select the correct comb diameter using the document measure


Select the correct back margin depth for the number of sheets

Select the correct punch profile for the sheet size. Select releasable dies as appropiate


Adjust the wire size adjustable knob in terms of the size of the wire



Punch sheets in small batches that do not overload the machine of the use
(Max 35 sheets)

The machine punching when use handle


When all punched sheets are loaded on to the wire, press the wire clamp again and take them out

Put the sheets on to the binding slot and push the binding handle forward to close the wire
<div class="protest"><h2>We do a lot of testing before final package to pursue &quot;100% quality&quot; goal!</h2><ul><li><img src="http://img1.cdn.tradew.com/Y201505M1561321T6G6574448/W0H0/protest01.jpg" alt="" /></li><li><img src="http://img1.cdn.tradew.com/Y201505M1561321T6G6574454/W0H0/protest02.jpg" alt="" /></li><li><img src="http://img1.cdn.tradew.com/Y201505M1561321T6G6574456/W0H0/protest03.jpg" alt="" /></li><li><img src="http://img1.cdn.tradew.com/Y201505M1561321T6G6574457/W0H0/protest04.jpg" alt="" /></li></ul></div>
Address:

Tangpu Industrial Park, Anji, Huzhou City, Zhejiang Province, 313300. CHINA
PHONE:

+86-571-88963565